Green Locksmith Intercom System Repair Services
Intercom System Repair Specialists Los Angeles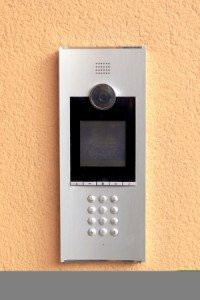 Are you looking to increase the overall level of security in your office building? Green Locksmith Los Angeles specializes in intercom system repair and installation. Intercom systems are ideal for identifying people by simply pressing a button. It's essential to have a fully functional intercom system to maintain complete control of your commercial settings. Green Locksmith works 24 hours a day to repair any problems within your intercom system. Skillful repair technicians take apart the intercom system and perform all necessary work to repair the problems.
Intercom systems make it convenient for you to buzz people in and limit theft. You can identify the voices of familiar employees or business partners and keep unauthorized guests away. The most common problem with an intercom system is that the circuits inside malfunction. Green Locksmith's team of knowledgeable repair specialists make it a priority to fix the circuits on the spot. Intercom systems are typically the preferred choice for all luxury retail jewelry sellers due to the high level of security comfort.
Intercom System Repair Services Los Angeles
Green Locksmith offers a wide range of commercial services, which includes; intercom system repair, high security locks, closed circuit television surveillance cameras, access control panels, exit devices, security system installation & repair file cabinet locks, master key make services, lost key duplication, rekeying of locks and much more. Green Locksmith covers the entire city of Los Angeles, one satisfied client at a time! No matter how large or small your business operation is, we've got the right security solutions for you.
Green Locksmith's team of professional intercom system repair specialists will provide you with a free consultation. If you're searching for a more secure way to prevent office theft, you might want to have a high grade CCTV camera installed. The purpose of the camera is to spot all activities 24/7. Intercom systems are perfect for voice recognition and for all around security purposes. Make sure your building is well equipped with a good quality intercom system. Leave the repairs to the pros at Green Locksmith!
Call Green Locksmith for the Best Quality Intercom System Repair Services
Intercom systems are not useful for buildings with many floors, they are also useful for smaller housing complexes where businesses are performed. Some examples would be dentists, fashion retailers, private practices for physicians and insurance companies. Green Locksmith's highly trustworthy technicians can be reached 24/7 for all commercial security settings. Intercom systems must be regularly maintained to prevent the components from short circuiting. You can't afford to play around when it comes to your safety!
Green Locksmith Los Angeles has your best intentions at stake. We've been in the locksmith industry for many years and continue to achieve successful results on a daily basis. It's thanks in part to the dedicated team members at Green Locksmith that we're able to stand atop the mountain of success! You'll have the pleasure of speaking with the nicest support representatives in Los Angeles 24/7. You'll receive a fair quote and free estimation of services in advance. Call the expert intercom system repair technicians of Green Locksmith today!